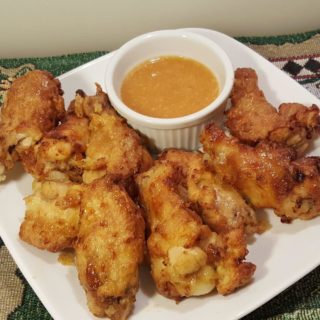 Print Recipe
Air Fryer Hamburger Hamlet Fried Chicken Wings with Apricot Sauce
Air Fryer Hamburger Hamlet Fried Chicken Wings & Secret Apricot Sauce will bring back memories from the 80's-90s at this wonderful and famous restaurant.
In a baggie or container add Chicken Wings, Franks RedHot Sauce and Buttermilk. Shake to combine and coat. Let marinate for at least 30 minutes. Overnight is fine.

Crack open egg in one bowl and pour in about 1/4 -1/2 cup of Buttermilk. Beat together with the egg. In a flat bowl, place 3/4 cup Potato Starch, salt and pepper. In another flat bowl, add 1/2 cup of Potato Starch and 1/2 cup of Flour. Place the Egg Mixture bowl in the middle

Dip Chicken Wings into the Potato Starch mixture and shake off excess flour. Then quickly dip into egg mixture and shake off excess. Finally, quickly dredge them through the Potato Starch/Flour mixture.

Coat the entire Air Fryer Basket with Coconut Oil.

Shake off excess Starch/Flour and place Chicken Wings in prepared/greased Air Fryer Basket. Spray Chicken Wings generously with Oil Mister.

Cook at 350 degrees for 20 minutes, shaking every 5 minutes. Spray Chicken Wings with Oil after the first shake. Turn temperature to 400 and cook for 5 more minutes, shaking a couple of times.