Instant Pot Sweet Potato Medallions are caramelized in ghee and sinfully delicious. They make a nice side dish for Thanksgiving and Christmas!
Sweet Potatoes are mostly associated with holidays like Thanksgiving and Christmas.
My Pressure Cooker Sweet Potato Casserole with marshmallows on top is one of my favorite holiday recipes.
These Instant Pot Sweet Potato Medallions cook up quickly in the Instant Pot, Ninja Foodi or Pressure Cooker and then are quickly seared in homemade ghee in in cast iron. They can also be air fried using the Mealthy Crisplid, right in the pressure cooker!
You can certainly use butter, coconut oil, olive oil or whatever oil you prefer.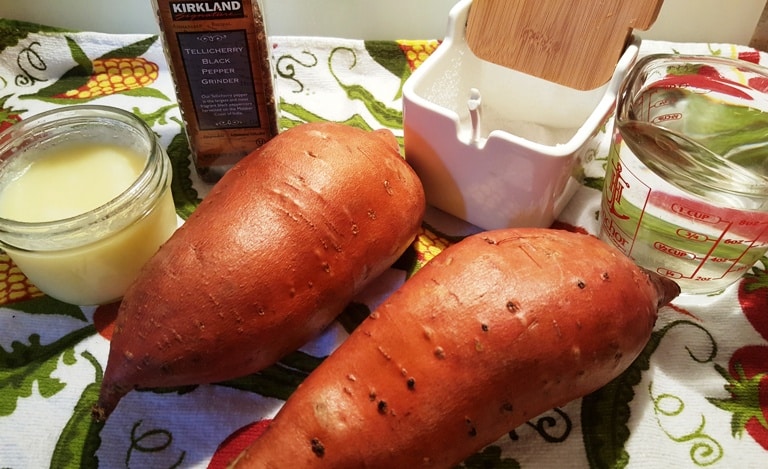 Here are the cast of characters and as you can see, it's just a few items. I make Homemade Ghee in my Multi-Cooker, and it is as simple as can be. If you don't want to use Homemade Ghee, you can use whatever oil that you choose.
Coconut oil is great for this recipe too. If you want to use butter, make sure to use it mixed with some type of cooking oil, as butter will burn at a high temperature.
Scrub the sweet potatoes really well. To me, the skin is the best part, but you can peel off the skin after the sweet potatoes are cooked, if you don't like skin. The crispness from cooking them in the Homemade Ghee is delicious though.
Place the sweet potatoes on a trivet above some water in the Pressure Cooker cooking pot and cook.
I would consider this sweet potato to be medium. You will need a longer cook time for a larger and fatter sweet potato.
Ignore the sweet potato in the background. I ended up just using the one in the front. That one in the back turned out to be rotten. I thought as much, but cooked it anyway, just in case.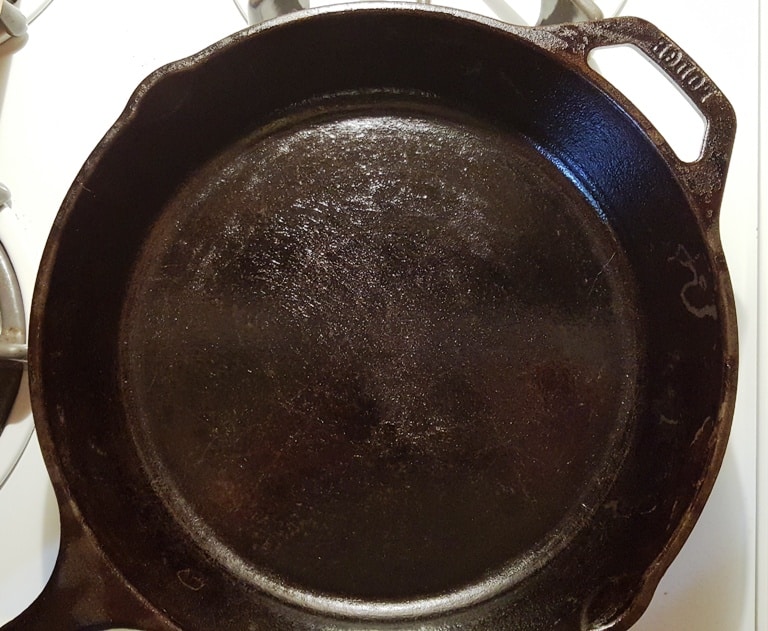 Heat up a large Cast Iron Skillet until very hot and then add your Ghee or fat.
When the Ghee starts to sizzle, drop in the sweet potato slices.
Add in as many as you can fit. Instant Pot Sweet Potato Medallions will be the star of the meal!
Sprinkle on some salt and pepper and cook until nicely browned on both sides. I like to place them on a paper towel before plating, to remove any excess oil. The crispy skin is soooooo good.
Thanks, Melanie, I love the sweet potatoes finished in cast iron and since I've been on a huge Ghee kick, all the better. Your photos look better than mine! 🙂 These pair really well with my Ken's A1 Pot Roast recipe.
More Instant Pot Sweet Vegetable Recipes to Make:
Kitchen Equipment and Essentials
Caring is sharing! If you would like to support This Old Gal, please share this recipe on Social Media, so that I can continue to bring you more wonderful recipes!
If you share a picture of something you make from our blog, tag it with #thisoldgalcooks so we can see it. We might feature it on Instagram! It makes my day when I see you've made one of our recipes!
Here is the handy printable recipe:
Instructions
Scrub sweet potatoes well and poke a few holes with a fork.

Place one cup of water in Pressure Cooker cooking pot and place trivet. Add sweet potatoes to trivet.

Lock on lid and close Pressure Valve.

Cook on High Pressure for 15 minutes (or longer, if using large sweet potatoes).

When Beep sounds, allow a Natural Pressure Release.

When all pressure is released, remove sweet potatoes and slice about 1/2 inch thick.

Heat cast iron skillet over medium high heat. When skillet is hot, add Ghee (or other oil if using). Pan sear until both sides are nicely browned. Sprinkle with salt and pepper.
Notes
Medium Sweet Potatoes - 15 minutes
Large Sweet Potatoes - 18 minutes
Nutrition
Nutrition Facts
Instant Pot Sweet Potato Medallions
Amount Per Serving
Calories 283
Calories from Fat 90
% Daily Value*
Fat 10g15%
Cholesterol 26mg9%
Sodium 129mg6%
Potassium 764mg22%
Carbohydrates 46g15%
Protein 4g8%
Vitamin A 32157IU643%
Vitamin C 5mg6%
Calcium 68mg7%
Iron 1mg6%
* Percent Daily Values are based on a 2000 calorie diet.
© ThisOldGal.com - Sharing the recipe link to any of my recipes posts are both encouraged and appreciated. Unauthorized and improperly attributed or non-attributed use of this material, including screen shots, copy/paste of full recipes to any social media site, website, mobile application or service (e.g., copymethat, recipe keeper, pepper) or cookbook, without the requisite attribution or otherwise with express written permission from Jill Selkowitz is strictly prohibited. You may share a photo with a link back instead.
PIN this Instant Pot Pressure Cooker Caramelized Sweet Potatoes Yams!