Pressure Cooker Dirty Water Hotdogs are reminiscent of all those fabulous pushcart street Hot Dog vendors in New York City.
Pressure Cooker Dirty Water Hotdogs
Close your eyes and imagine standing on the curb, eating a hotdog from a vendor in Times Square.
Ummmmm. Those hot dogs are referred to as "Dirty Water Dogs."
The vendors, with their Sabrett umbrellas continue to add new hotdogs to the water in their carts, without changing the water.
Hence the term "Dirty Water Hotdogs."
I have no idea if the water ever gets changed at all, but for now, I'm not going to think about that.
Do those Hotdog Buns look soft and fluffy to you?
Yeah, well then, for those wondering what to do with your whey from your Homemade Greek or Regular Yogurt, check out my Japanese Hokkaido Milk Hotdog Buns recipe!
I made those yummy looking buns myself. No commercial yeast.
Natural fermentation, baby! Bet you didn't know I was a bread baker too. 🙂
Thanks to my FB friend Perry Younker, for sharing this recipe for Mario Batali Dirty Water Hotdogs.
I was inspired by him when he posted the recipe to convert it for the Instant Pot Pressure Cooker.
My hubs, who is from New York says, you can't make Dirty Water Hotdogs using fresh water. Well, yeah, but, I can sure try.
I imagine that this recipe tries to replicate the "dirty water" in the vendors' carts.
I imagine the long soaking of the hot dogs in those carts release some cumin and nutmeg in to the water.
I would also imagine, that the vinegar gives the water some history, longevity if you will….at least that is what I would imagine.
While the street vendors use Sabrett hot dogs, my favorite dogs are now the Kayam brand.
They are all beef and have a casing. Those dogs are incredible.
They have that wonderful snap and burst of juice! I suppose Sabrett or Hebrew National will have to do for now.
Make sure to buy Hotdogs that are NOT skinless.
Unfortunately, I cannot find anything remotely similar here in Los Angeles. If any of you know of a good hotdog, please let me know.
As you can see, there is room to make a lot of Pressure Cooker Dirty Water Hotdogs in my 6 Quart Instant Pot Pressure Cooker.
If you want to make a larger amount, just double or triple the recipe.
I imagine you could feed a whole stadium using this new 14 Quart Pressure Cooker. Oh my, that sure is a big one!
For six hotdogs, just give the Nutmeg a couple of passes over the Microplane.
That should be enough. If you double the recipe, double the spices.
The vinegar and spices give the impression of old and "dirty" water.
At least, that is what I think and by George, I am sticking to it!!!!
Drop in your Hot Dogs and you are ready to cook.
Oh, how I wish I had some Kayam Dogs in the casings…..
If you have some leftover Pressure Cooker Holiday Baked Beans, reheat them using the Pot in Pot Method.
You do have some beans in your freezer, right?
If not, make some Pressure Cooker Holiday Baked Beans, so you always have them on hand.
The longer the Dogs, soak, the more flavor you will pick up.
Place the Pressure Cooker Dirty Water Hotdogs onto the buns, allowing some of the "dirty water" to drain into the Hokkaido Hotdog Bun.
How do you like your Dogs?
I like a little brown mustard and hot dog relish and/or tomato onion relish (recipes coming soon).
The hubs likes them with just brown mustard. Sometimes, I like them totally plain.
I always like them with my Pressure Cooker Holiday Baked Beans.
Don't forget to check out my Hokkaido Hotdog Bun recipe. If you are a Yogurt Maker, you can use your whey, in place of the milk!
Kitchen Equipment and Essentials

Caring is sharing! If you would like to support This Old Gal, please share this recipe on Social Media, so that I can continue to bring you more wonderful recipes!
Here is the handy printable recipe:
Pressure Cooker Dirty Water Hot Dogs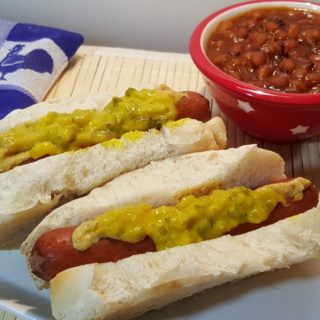 Instructions
Add water Water, Vinegar, Cumin and Nutmeg to your Pressure Cooker cooking pot.

Toss in the hotdogs.

Lock on the lid and close Pressure Valve. Cook on Low Pressure for 3 minutes. hen Beep is heard, allow a full Natural Pressure Release.

Serve on

Hotdog Buns

, allowing some of the water to drain onto the bun.
Notes
If you like, freeze leftover water for next time. 🙂 If using High pressure, cook for 2 minutes with full Natural Pressure Release.
PIN this Instant Pot Pressure Cooker Dirty Water Hotdogs (New York Hot Dogs)!