This bread is a bit heartier than my Country Sourdough Bread, as I add whole grains and oats.
Cast of Ingredients
Bread Flour
Whole Wheat Flour
5 Grain Rolled Hot Cereal
Store bought bread is made so quickly and with such shortcuts, it's no wonder people think they are gluten intolerant. For more help and lively discussion, join my Facebook Group, Natural Fermentation Real Sourdough Bread Bakers.
Starter
You will want to feed your starter the night before, by discarding (removing some starter) and then feeding. Leave it out all night in a warm place, covered. It should triple in size and then fall back a bit.
Check out my How to Make Sourdough Starter recipe.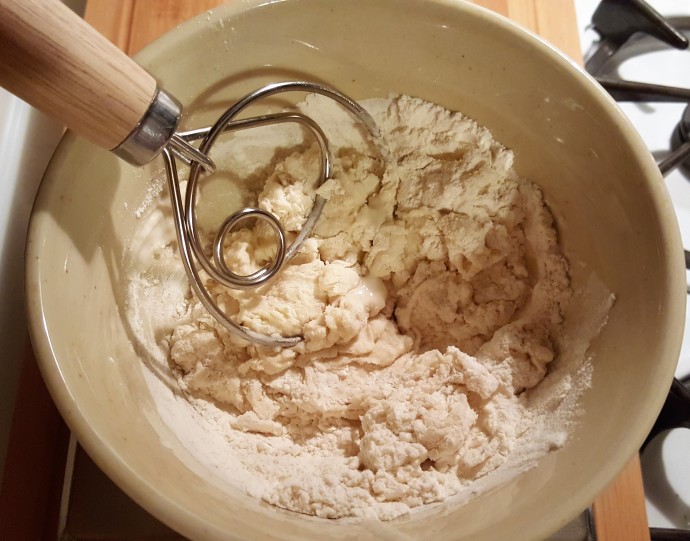 If your jar of starter that you keep in the refrigerator is not very active, you could instead of feeding it and letting rise overnight, make a Levain (pre-ferment) by removing a Tablespoon of Starter from your jar and adding in flour and water and then cover overnight.
This will produce a stronger active yeast. A levain is a mixture of sourdough starter, flour and water that is prepped and then allowed to grow. There is no commercial yeast in a levain. The Original Danish Dough Whisk does a great job of mixing up the flour and water.
Cover the Levain (or your jar of Starter) with a Flour Sack Towel and let it sit overnight to ferment.
The next morning, pull some starter out of the jar or use the levain you made the night before in a food safe container and then weigh in the flour and the water. I like to use the Baker's Math Kitchen Scale, as it is extremely accurate and will also weigh in Baker's Percentages.
For this size recipe, don't use more than 75 grams of Whole Wheat, Spelt or other low gluten flour.
Mix it up well with The Original Danish Whisk, so that there is no flour left separately in the bowl.
Cover with a Flour Sack Towel or whatever you like and autolyse for at least 30 minutes. You can go longer if need be.
Add in the Malt Powder, Cream Cheese Powder, oats, along with a bit more water and salt. This is called a Double Hydration.
Rest the Dough
After one hour of rest, your dough will be visibly taller.
After several hours of stretch and folds, the dough is going to show lots of gas bubbles!
Weigh the dough and then using a Bench Knife, cut the dough into two equal pieces.
Pull the bottom of the dough towards you and then fold it up. Fold in the sides, like an envelope and then pull the top over the folds.
With your Bench Knife in one hand, rotate the dough to form a tight ball.
Cover the dough and let it bench rest for 30 minutes. I love my Snow River Pastry Board. When I first got it, I applied four rounds of John Taylor Butcher Block Conditioner Oil and then two coats of Clark's Cutting Board Finish Wax.
Once a month, I apply another coat of the Oil and every couple of months I apply the Wax after oiling.
The dough will be puffy.
Dust some flour over the top and with your Bench Knife, flip it over and reshape, this time tighter. Using your Bench Knife as a guide to scrape along the board, pull the dough towards you, which will tighten the dough even further.
Using rice flour and/or wheat flour, dust your Banneton. Alternatively, you could use a linen cloth inside the Banneton, if you do not want the swirls to show on your bread.
Using your Bench Knife, place seam side up, in two Banneton Proofing Basket. Sprinkle Rice flour over the top of dough, cover with plastic wrap and place in refrigerator overnight.
I sometimes divide half the dough and shape into mini Boules.
The next day, remove from refrigerator and allow to come to Room Temperature.
Preheat oven to 500 Degrees F for one hour, score your bread with a Bread Lame and bake. Razor Blades are super cheap and I buy them in packs of 100.
To learn more about bread baking, please join my Natural Fermentation Real Sourdough Bread group.
More Bread Recipes You Will Love.
Kitchen Equipment and Essentials
Caring is sharing! If you would like to support This Old Gal, please share this recipe on Social Media, so that I can continue to bring you more wonderful recipes!
If you share a picture of something you make from our blog, tag it with #thisoldgalcooks so we can see it. We might feature it on Instagram! It makes my day when I see you've made one of our recipes!
Here is the handy printable recipe:
Oats and Seeds Sourdough Country Loaf
Ingredients
Dough - Autolyse
150

grams

Levain or 150 grams very active Starter

525

g

Warm Water

675

grams

Bread flour

75

grams

Whole Wheat Flour

Spelt or other Whole Grain Flour
Instructions
Day One - Prep the Starter
Prepare Levain and place in a draft free spot overnight.
Day Two - Mixing and Stretch & Folds
In a mixing vessel add Levain, water and flour and mix with fingers just until incorporated. Do not over mix.

Autolyse at least 40 minutes.

Add malt and cream cheese powder, oats, salt and water and integrate into dough (water will not immediately integrate, but will with each stretch and fold).

Cover dough and bulk rest for 3-5 hours with stretch and folds every 30/60 minutes.

The dough should be billowy and increase in volume 20 to 30 percent.

Transfer dough to a work surface and dust top with flour.

Cut dough into 2 equal pieces and flip over.

Fold the cut side of each piece up onto itself so the flour remains on the outside.

Work dough into two taut rounds.

Cover with a towel and rest 30 minutes.

Dust two Bannetons with white/whole wheat or rice flour.

Dust rounds with whole-wheat flour or rice flour.

Flip them over so floured sides are facing down.

Take first round and fold it into itself like an envelope.

Flip dough over and shape into smooth, taut ball by pulling the dough towards the body to tighten. Repeat with other round.

Transfer rounds, seam-side up, to prepared baskets. Cover with a towel or plastic bag and place in refrigerator overnight, 10 to 12 hours.
Day Three - Baking Day
Proof for one to two hours at room temperature.

Place baking stone, baking vessel or Dutch Oven into oven and preheat to 500 degrees at least 30 - 60 minutes prior to baking.

Dust top of dough, still in the Banneton, with flour and turn on to pizza peel. Slash top.

Place dough in baking vessel or on baking stone, spritz with water and cover for 20 minutes. Remove cover and bake an additional 15-20 minutes.
Notes
For a blistered crust, spray the top of the loaf with water prior to covering.
Nutrition
Nutrition Facts
Country Sourdough Bread
Amount Per Serving (0 g)
Calories 0
% Daily Value*
Fat 0g0%
Cholesterol 0mg0%
Sodium 0mg0%
Potassium 0mg0%
Carbohydrates 0g0%
Protein 0g0%
Vitamin A 0IU0%
Vitamin C 0mg0%
Calcium 0mg0%
Iron 0mg0%
* Percent Daily Values are based on a 2000 calorie diet.
© ThisOldGal.com - Sharing the recipe link to any of my recipes posts are both encouraged and appreciated. Unauthorized and improperly attributed or non-attributed use of this material, including screen shots, copy/paste of full recipes to any social media site, website, mobile application or service (e.g., copymethat, recipe keeper, pepper) or cookbook, without the requisite attribution or otherwise with express written permission from Jill Selkowitz is strictly prohibited. You may share a photo with a link back instead.
PIN this Oats and Seeds Sourdough Country Loaf!