Preparing Air Fryer Frozen Onion Rings is a great way to get used to your new Air Fryer. In just a few minutes, you can enjoy, hot and crisp Onion Rings.
Air Fryer Frozen Onion Rings
One of the most popular food to fry in a deep fryer, after French Fries, of course, are Onion Rings! The perfectly cooked onion surrounded by a crispy and hot bread coating is just so yummy.
Deep frying is messy and very caloric and cooking onion rings in the oven, generally make the coating kind of hard and chewy.
I was given the GoWise USA 3.7 Quart Air Fryer, so I have been trying out various food. I'll post a recipe for  homemade onion rings very soon. Today, I am using frozen onion rings and in just a few minutes, the onion rings were completely cooked and perfectly browned.
Please feel free to join the Facebook Air Fryer Recipe Group, where we share recipes, methods and fun.
I used one half bag of Ore Ida Onion Ringers, but this fryer can hold one bag or more.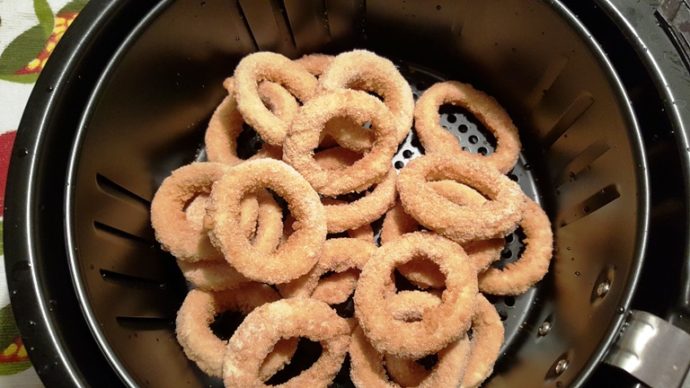 Dump them into the basket of the air fryer.
You will note that the basket has a protective locking mechanism so that you won't drop the drawer on the floor.
My last air fryer did not have the locking mechanism and the first thing I did, was pick up the basket and the drawer fell to the floor.
Push the French Fry button and adjust time to 7-8 minutes, depending on how crisp you like your onion rings.
You do not need to preheat when using the GoWise USA 3.7 Quart Air Fryer!
Serve the Onion Rings along with my Better than Bloomin' Onion Ring Dipping Sauce.
More Recipes to Pair With Onion Rings You Will Love.
Kitchen Equipment and Essentials

Caring is sharing! If you would like to support This Old Gal, please share this recipe on Social Media, so that I can continue to bring you more wonderful recipes!
If you share a picture of something you make from our blog, tag it with #thisoldgalcooks so we can see it. We might feature it on Instagram! It makes my day when I see you've made one of our recipes!
Here is your handy printable recipe:
Air Fryer Frozen Onion Rings
Instructions
Place onion rings in Air Fryer and set temperature to 400 degrees Fahrenheit and set time for 8 minutes.

Shake basket half-way through cook time, if desired.
Nutrition
Nutrition Facts
Air Fryer Frozen Onion Rings
Amount Per Serving (0 g)
Calories 0
% Daily Value*
Total Fat 0g 0%
Cholesterol 0mg 0%
Sodium 0mg 0%
Potassium 0mg 0%
Total Carbohydrates 0g 0%
Protein 0g 0%
* Percent Daily Values are based on a 2000 calorie diet.
PIN this How to Prepare Air Fryer Frozen Onion Rings!