Pressure Cooker Blackberry Cheesecake is a rich and dense New York Style Cheesecake with bursts of ginger and blackberries.
Cheesecake is my very favorite dessert. The ginger in the crust combined with the blackberry jam, makes this cheesecake really special.
It's creamy and very smooth and oh so heavenly. I love making cheesecakes in my Pressure Cooker, as they always come out perfect and I don't have to pay much attention.
Before you get started making this Pressure Cooker Cheesecake, please read my article called Perfect Pressure Cooker Cheesecake Tips & Guide, so that your first cheesecake will be a success.
Add graham crackers and sugar into the bowl of a food processor.
If you don't have a food processor, take a large baggie and put the graham crackers inside, seal it and take a rolling pin and crush the crackers.
Just make sure you read my Perfect Pressure Cooker Cheesecake Tips & Guide first.
Pulse until small crumbs form. Add melted butter and combine.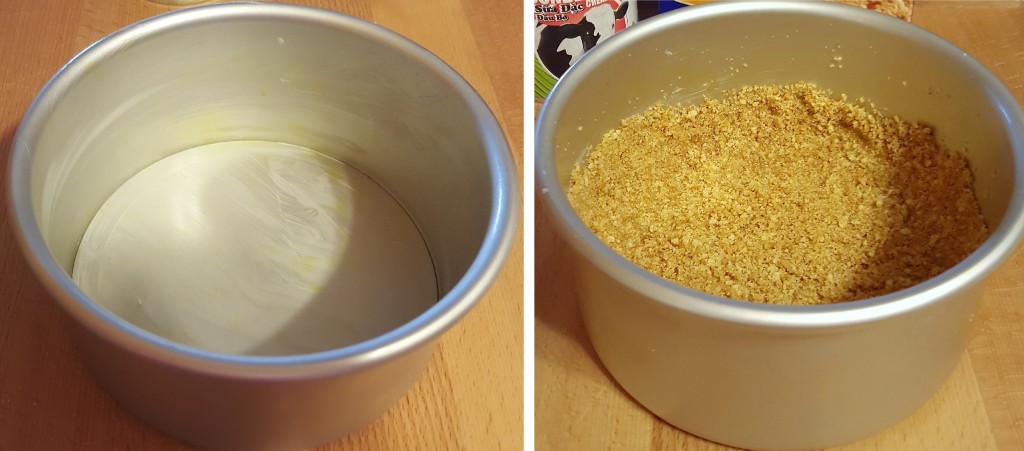 I prefer the 6″ Fat Daddio's Push Pan, because clean up is so very easy, but some people prefer a Spring Form Pan.
Grease your Cheesecake Pan and then cut a piece of parchment paper and place it inside. If you don't have parchment, don't worry. It just might be a little more difficult to separate the cake from the bottom of the pan.
Press crumb mixture into pan using a Fox Run Tart Tamper or your fingers, forming a neat border around the edge and slightly up the sides.
It is helpful to put the pan with the crust into the freezer while preparing the filling.
Mix the cream cheese, sugar, vanilla, peels together well.
Add the eggs, one at a time. Just mix in until combined. You may see some yellow from the yolk in the batter, and that is fine.
Fold the cream in just to combine.
For grating the lemon and orange, I use the Microplane Stainless Steel Zester, as it is stainless steel and has super sharp blades, making zesting a breeze.
You won't taste the peels, but they will enhance the flavor of this Pressure Cooker Blackberry Cheesecake.
Smush the jam between your fingers to avoid chunks and gently place tiny dollops on top of the filling, at least one to two inches a part.
Using a butter knife, carefully swirl the jam into the top part of the filling.
I like to cover my cake pan with a paper towel and a piece of foil, to eliminate water from landing on the cheesecake.
If any moisture gets on the cake, just dab it off with a paper towel.
Some people like to use Grafiti Bands Cross Style as they make it so easy to get pans and bowls in and out of the Pressure Cooker. The Grafiti Bands will hold the paper towel in place nicely, as well.
Lower the cheesecake into the Pressure Cooker cooking pot, using your Homemade Foil Sling. If you have an 8 quart or larger Pressure Cooker, you could use an 8 Inch Cheesecake Pan and just double the recipe. Add 5 minutes to the cook time.
Any jar that will fit into the opening of the Push Pan will work. Don't try to take it out of the pan, until at least after a couple of hours in the refrigerator!
A Cheesecake desperately needs at least 12 hours in the refrigerator, so please, please, make your Pressure Cooker Blackberry Cheesecake the day before you need it and let it set up properly in the refrigerator overnight.
It will taste much, much, much, better. Really, I am not joking. Your Cheesecake will taste good on the same day, but will taste incredible the next day.
I use this LamsonSharp Chef's Slotted Turner to remove the cheesecake to a plate. It's super thin and fits easily between the Cheesecake and the base of the pan. It is not a good idea to cut the cheesecake on top of the Push Pan base, as it will scratch and sticking will become a problem.
A small amount of the fruit from the jam will sink a bit in places, so don't over do the chunky part.
This Pressure Cooker Blackberry Cheesecake is awesome topped with Pressure Cooker Lemon Curd. Lemons and Blackberries, ummmmm, it is so good.
Kitchen Equipment and Essentials
Caring is sharing! If you would like to support This Old Gal, please share this recipe on Social Media, so that I can continue to bring you more wonderful recipes!
If you share a picture of something you make from our blog, tag it with #thisoldgalcooks so we can see it. We might feature it on Instagram! It makes my day when I see you've made one of our recipes!
Here is the handy printable recipe:
Instructions
Add graham crackers, sugar and candied ginger to the bowl of food processor and pulse a couple of times, until small crumbs form. Add melted butter and pulse until just combined.

Pour graham cracker mixture into bottom of greased 6-inch cheesecake pan and press the mixture firmly into the bottom of the pan and one inch up along the sides.

Using a food processor, blend together cream cheese, sugar, grated peels, flour, vanilla bean caviar and vanilla extract until smooth.

Add eggs and yolk, one at a time, mixing just enough to combine. Do not overmix the eggs.

Hand blend in the cream until combined.

Pour filling into the pan, on top of the graham cracker crust.

Using a teaspoon, gently place tiny dollops of the preserves on the top of the filling, leaving spaces between each dollop. Using the tip of a butter knife inserted 1/2 inch into the filling, gently pull the preserves through the filling, going back and forth from one side to the other. Turn the cake 90 degrees and run the knife through again.

Add one cup of water to the bottom of your pressure cooker and place a trivet inside the pot.

Cover the cheesecake first with a paper towel and then with a piece of aluminum foil and secure it around the sides.

Lower cheesecake into pressure cooker pot using a sling.

Lock pressure cooker cover into place. Set the pressure to high for 37 minutes.

When Beep sounds, allow a 15 minute Natural Pressure Release.

After all pressure has been released, open pressure cooker and gently remove the pan.

Remove the foil and paper towel and dab off any liquid that may have accumulated.

The center will be a bit jiggly, but don't worry. The heat that is trapped inside will continue to cook the center while the cheesecake cools.

Let cool on wire rack for one hour.

Lightly cover and place in refrigerator overnight.

Remove cheesecake from pan.
Notes
Any kind of cookie crumbs can be used. Nilla Wafers, Shortbread, Ginger Snaps, Chocolate thins, etc.
Use extra flour if you want a denser filling and/or add 5 minutes to your cook time.
If using fresh fruit instead of preserves/jam, please add 2 minutes to the cook time.
If you use a 7 inch pan, cook for 32 minutes with a 15 minute Natural Pressure Release.
I personally like the height of the cheesecake in a 6 inch pan. The percentage of filling to crust is perfect. However, if you want to use a 7 inch pan, make an extra half recipe and you will have a bigger AND taller cake. Cook that for 40 minutes with a 15 minute Natural Pressure Release.
If using the mini 4 inch pans, cook for 12 minutes, with a 15 minute Natural Pressure Release.
For Single Serving Jar Cheesecake
8 oz Wide Mouth Glass Jar - cook 7 minutes
4 oz Wide Mouth Glass Jar - cook 4 minutes
16 oz Glass Jars - DON'T DO IT!
15 minute Natural Pressure Release
Nutrition
Nutrition Facts
Pressure Cooker Blackberry Cheesecake
Amount Per Serving (0 g)
Calories 243
Calories from Fat 81
% Daily Value*
Fat 9g14%
Cholesterol 90mg30%
Sodium 524mg23%
Potassium 200mg6%
Carbohydrates 28g9%
Protein 12g24%
Vitamin A 319IU6%
Vitamin C 1mg1%
Calcium 223mg22%
Iron 1mg6%
* Percent Daily Values are based on a 2000 calorie diet.
© ThisOldGal.com - Sharing the recipe link to any of my recipes posts are both encouraged and appreciated. Unauthorized and improperly attributed or non-attributed use of this material, including screen shots, copy/paste of full recipes to any social media site, website, mobile application or service (e.g., copymethat, recipe keeper, pepper) or cookbook, without the requisite attribution or otherwise with express written permission from Jill Selkowitz is strictly prohibited. You may share a photo with a link back instead.
PIN this Pressure Cooker Blackberry Cheesecake (Or Any Fruit)!