Pressure Cooker Buffalo Chicken Macaroni and Cheese is a surprisingly delicious 'adult' macaroni and cheese, which a slight kick and uses frozen chicken tenders or breasts.
My husband and I love this dish!  It seems to get better with each bite and tastes even better the next day.  It's a quick meal to make when you have nothing planned for dinner.
Pressure Cooker Buffalo Chicken Macaroni and Cheese is an 'adult' macaroni and cheese.  It is surprisingly delicious.  After a couple of bites, suddenly, you are hooked and will yearn for more and more.  Seriously.
If you don't want spicy, no worries, in the notes section, I tell you how to make it mild.  The recipe is written for medium, so it's not too spicy as written.
I saw Wolfgang Puck and Deb Murray make this on TV about 12 years ago, and it sounded interesting, so I decided to use the recipe, but, I made some changes, to what I thought we would prefer.  I couldn't believe how delicious this tasted.
There are not many ingredients and you probably already have them all in your pantry and freezer.  The beauty of this meal is that is uses frozen chicken!  Although you can use fresh too!  De Cecco Rigatoni is best for using in the Pressure Cooker and really, for everything.
It's more forgiving and stays al dente.  I have no idea why we had Barilla in the house.  I think when I asked my husband to pick up Rigatoni, he didn't feel like driving to Stater Bros. and went to the closest market.
I always have tons of Reditainer Extreme Freezer Containers filled with Chicken Bone Broth in my freezer and use it frozen.  Don't leave out the Hidden Valley Original Ranch DRY Seasoning , even if you despise ranch salad dressing like my husband and I both do as it really adds the key note to this dish.
Add the chicken, pasta, stock, vegetables, Buffalo Sauce and Ranch seasoning to the Pressure Cooker cooking pot.
Give it a mix and you are ready to cook.
After the pressure is released, remove the chicken from the Pressure Cooker cooking pot and cut into pieces.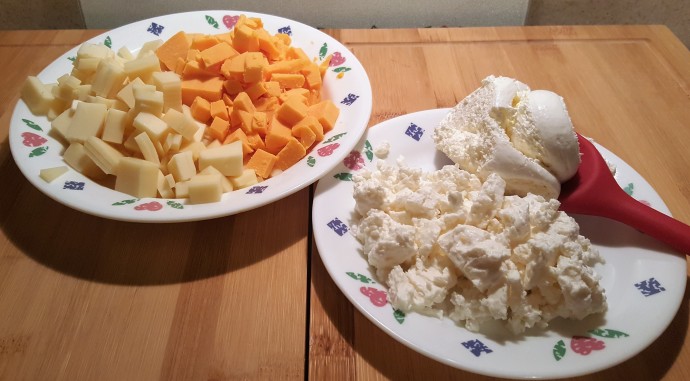 Add in the cheese, one at a time.  Cheddar, Jarlsburg (or Swiss), Feta (or Blue Cheese) and cream cheese is a delicious combination.  Mix each cheese into the pasta and allow it to melt, before adding in the next cheese.
The noodles will continue to cook and will be the perfect al dente texture, by the time you are ready to eat.
Add the chicken back in.
The dish is nice and creamy, with a teeny kick.  The Buffalo Chicken Macaroni and Cheese freezes well and is so simple to heat up in an Instant Pot or Pressure Cooker.
We like to store the leftovers in 24 ounce Reditainers Extreme Freezer Containers as they are BPA free, hold up well and are perfect for two servings leftovers.  Plus, they are cheap enough to share leftovers with guests.
Enjoy!  Take about three bites before you decide if you like this or not, as it is a bit different and takes a moment to make sense.  🙂
For traditional delicious other Mac & Cheese recipes, check out my Pressure Cooker Macaroni and Cheese, Fully Loaded and my Pressure Cooker Butternut Squash Pasta recipes.
Equipment Used

Caring is sharing!  If you would like to support This Old Gal, please share this recipe on Social Media, so that I can continue to bring you more wonderful recipes!
Here is your handy printable recipe:

Pressure Cooker Buffalo Chicken Macaroni and Cheese
Pressure Cooker Buffalo Chicken Macaroni and Cheese is an adult macaroni and cheese. It's a very comforting dish and makes a great freezer meal.
Ingredients
1 pound frozen boneless and skinless chicken breasts or tenders
16 ounces Rigatoni, Penne, or other sturdy Pasta, uncooked
3.5 cups chicken bone broth or stock
l onion, diced
3 celery stalks, diced
5 large carrots, peeled and sliced into one inch pieces
½ cup Frank's RedHot Original Cayenne Pepper Sauce
3 Tablespoons butter
1 teaspoon Worsterschire Sauce
1 teaspoon Brown Sugar
1 tablespoon Hidden Valley Ranch seasoning
½ cup whipped cream cheese
1 cup sharp cheddar, shredded
1 cup Jarlesburg or Swiss cheese, shredded
½ cup Feta cheese or Gorgonzola cheese
Instructions
Place all ingredients, except the cheese into the Pressure Cooker cooking pot
Lock on the lid and close the Pressure Valve.
Cook at High Pressure for 5 minutes.
When Beep sounds, allow a 6 minute natural release and then carefully do a Quick Pressure Release.
Open the lid and add in the cream cheese, cheddar, Swiss and Feta, stirring until dissolved.
Notes
It you want the dish less spicy, just add ¼ cup of Frank's Original Cayenne Pepper Sauce.

Fresh, thawed chicken works too! If using dark meat, cut the chicken into 2 inch chunks.
PIN this Pressure Cooker Buffalo Chicken Macaroni and Cheese!