Instant Pot Potato Salad is quick, easy and ready in less than 30 minutes in the pressure cooker. My secret ingredient makes this the best Potato Salad around.
In 1977, I met Carol Mackay at a CFA cat show, when I showed up with my Tonkinese cat, Oliver, totally uninformed about what it was like to show cats.
One of the Tonkinese breeders who was very nice to me and helped to learn the ropes, was Carol. Most of the Tonk owners benched together and brought lots and lots of food to each show.
Of course, since I love to cook, I quickly bought a large cooler and stocked it with all kinds of goodies, which I shared with the rest of the Tonk breeders.
We all had our specialties.
Carol's was Deviled Eggs and she always brought a huge tray of Deviled Eggs.
They were the best Deviled Eggs I had ever had and she always offered them to me first, to make sure I got one, or two…..
Sadly, Carol died, much too early, of stomach cancer about 15 years ago and she is very missed. The dressing of my Potato Salad, reminds me of Carol's Deviled Eggs.
I even made a Pressure Cooker Low Carb Deviled Egg Salad Roll Ups recipe, with Carol in mind.
This Instant Pot Potato Salad is different from my Instant Pot Classic Red Bliss Potato Salad, so that you can change up the taste, or even serve both.
If you want a healthier option, try my Potato Salad with Carrots, so that you have a vegetable with your Potato Salad.
Chop the potatoes into cubes.
For really delicious Instant Pot Potato Salad make sure to soak the potatoes in a Medium Mixing Bowl full of water for 30 minutes to remove some starch.
You don't have too, but it does help the end result!
If you like the skin, leave it on the potatoes.
I switch back and forth, whatever the mood strikes.
There are a couple of ways to make this Instant Pot Potato Salad.
The first way is my favorite.
Eggs stick very badly, so grease a Loaf Pan with Coconut Oil, or the Oil of  your choice.
If you want to use a Round Pan, that's cool.
Just make sure you grease it well!
You can use this Egg Loaf Method with my Pressure Cooker Classic Red Bliss Potato Salad recipe too!
You can use whatever amount of Eggs you like for this Instant Pot Potato Salad Recipe.
Some like to just use four Eggs.
I love eggy Potato Salad, so I use five.
Some people use six!
If you are making Instant Pot Potato Salad for your summer picnic, don't forget the Pressure Cooker Baked Beans?
Add the Water to your Pressure Cooker cooking pot.
Drain the Water from the Chopped Potatoes and place them in the Steamer Basket.
Just pop the Loaf Pan on top of the Chopped Potatoes.
Now for the other way.
This is the Old Fashioned way to cook the Eggs with the Potatoes.
It will work out well too, but then you have to deal with pealing the Shells.
Add the eggs on top and set the basket or pile them onto your trivet/steamer into your Pressure Cooker.
Make sure the legs on your steamer basket are high enough so that the potatoes don't sit in the water.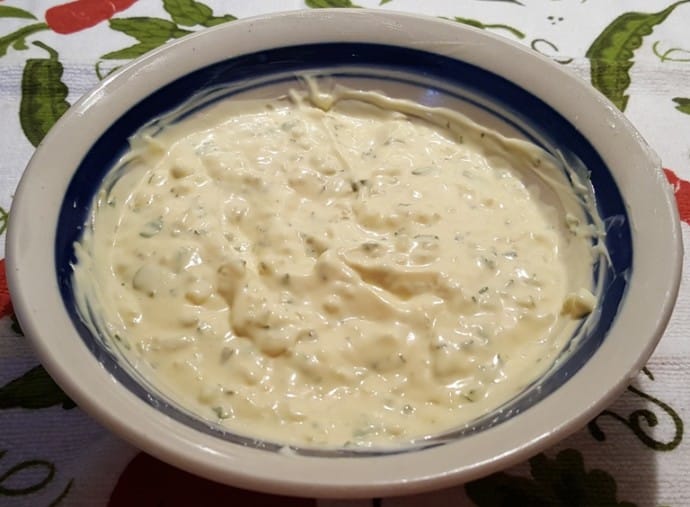 Whisk up the dressing ingredients and place in the refrigerator.
I love using my
Homemade Seasoned Salt
in place of regular salt.
This is a nice combination of seasonings, including celery seed, which gives the potato salad a wonderful taste.
This is where my recipe really stands out.
My This Old Gal Seasoned Salt really kicks up my Instant Pot Potato Salad to a whole other level!
Try it and let me know what you think. Otherwise, just use plain ole table salt. 😉
Gently use a Spatula and mix the Dressing into the warm Potatoes.
Either chop up the Eggs on a Cutting Board.
Or, use a Baking Rack and put the Egg Loaf through the grates.
Perfect little cubes!
Sprinkle with Paprika for color, if desired.
This Instant Pot Potato Salad pairs nicely with My Favorite BBQ Baby Back Ribs.
More Instant Pot Potato Recipes to Make
Kitchen Equipment and Essentials

Caring is sharing! If you would like to support This Old Gal, please share this recipe on Social Media, so that I can continue to bring you more wonderful recipes!
If you share a picture of something you make from our blog, tag it with #thisoldgalcooks so we can see it. We might feature it on Instagram! It makes my day when I see you've made one of our recipes!
Here's the handy printable recipe:
Instant Pot Potato Salad [Summer Picnic]
Print
Pin
Rate
Pressure Release:
1
minute
Ingredients
Instructions
Place raw potatoes in water and allow to soak for 30 minutes. Generously grease Loaf Pan and crack in Eggs.**

Add 1.5 cups of water to Pressure Cooker cooking pot. Drain potatoes and place into Steamer Basket. Place Steamer Basket into cooking pot.

Place Loaf Pan on top of Steamer Basket.

Lock on lid and close Pressure Valve. Cook on High Pressure for 4 minutes. When Beep sounds, do a Quick Release.

While Potatoes and Eggs are cooking, mix together dressing ingredients and set aside.

Place Potatoes into Large Mixing Bowl. Fold out eggs onto Baking Rack. Carefully incorporate dressing into Potatoes. Place Baking Rack over bowl of Potatoes and push through grates. Sprinkle with Paprika.


Cover the bowl and place in refrigerator to chill, until ready to serve.
Notes
** If not using a Loaf Pan, place eggs on top of potatoes.  After cooking, peel and slice or chop and add to Potatoes and Dressing.
Nutrition
Calories:
289
kcal
|
Carbohydrates:
26
g
|
Protein:
6
g
|
Fat:
18
g
|
Saturated Fat:
3
g
|
Cholesterol:
90
mg
|
Sodium:
964
mg
|
Potassium:
635
mg
|
Fiber:
2
g
|
Sugar:
1
g
|
Vitamin A:
5.1
%
|
Vitamin C:
12.1
%
|
Calcium:
3.9
%
|
Iron:
9.9
%
PIN this Pressure Cooker Summer Picnic Potato Salad!